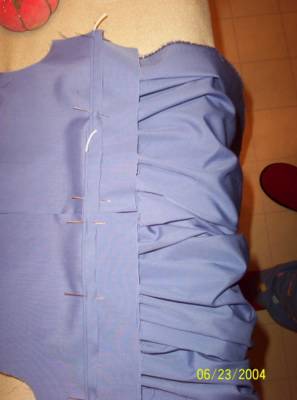 I sewed the baby cord piping on the back yokes lining up the center backs and the side seams. I had a little extra bodice in case I decided to go with a longer smocked insert on the front. I ended cutting off the extra b/c I didn't need the room after all.
Then I gathered the back skirt tops and put in the back placket. Then I sewed the gathered skirt to the yoke back and frenched-seamed the front to the back.
Finally, I put the dress together and it's ready for smocking. All I have to do is add the buttons and then hem it! Tommorrow I'll put together the red yoke dress.